Licensed Permanent Makeup Specialist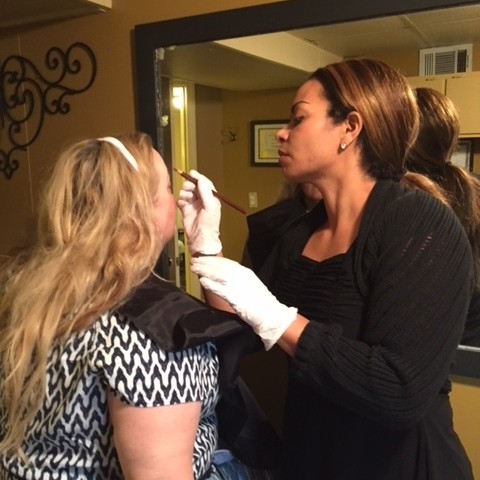 Christina Frazier comes to AesthetiCare with over three years experience, specializing in powder brows, microblading, hybrid blading and shading techniques, and gentle lip pigmentation and natural eyeliner.
With this range of custom capabilities, she can create the perfect brow for her clients with lip and eye service to match!
Before & After Microblading
This technique creates the most natural looking, realistic hair strokes with eyebrow permanent makeup. Imagine waking up to perfectly groomed brows every day without having to worry about filling your brows in, smudging, smearing, or your brows even disappearing. That's what microblading can do for you.
Before & After Microblading / Powder Brow
Powder Brow is a permanent makeup treatment similar to Microblading. Instead of creating hair-like strokes, Powder Brow achieves a subtle, powdered-makeup-like coloration of the brow.
A combination of the two techniques can create stunning, natural-looking results.
Before & After Permanent Eyeliner
Permanent eyeliner is a time-saving life addition. As eyeliner can be extremely difficult and tedious to apply, permanent eyeliner is an ideal option for those searching for a lasting solution. It's the perfect smudge-free option to make your eyes look bolder and brighter.
Before & After Permanent Lip Procedure
Beautiful lips that don't smudge or wear off can be yours with a permanent makeup professional lip procedure. Lipstick easily rubs off, and it can become a hassle to constantly reapply.
Enhance the appearance of your lips, correct asymmetry, and define them permanently.
Using temporary makeup to cover scars (whether from injury or surgery) is one losing battle after another. With a combination of permanent makeup techniques, Christina is able to beautifully camouflage scars with the surrounding skin.
If you look close enough, you'll notice our skin is not all one color, but rather a palette of a colors. By analyzing your skin palette, Christina uses all of your coloring to blend in the scarred area.
Just complete the form to request your appointment!
Need more information? Give Christina a call: 913-908-0542
or email her at christina@greatskinkc.com .
*May not be combined with additional discount. Makeup services include microblading, powder brow, eyeliner, lip & scar camouflage treatments scheduled with Christina Frazier. Must be purchased by August 31, 2018 to qualify.
AesthetiCare Medspa, 11100 Ash St. Suite 210, Leawood, KS 66211